TAKE ACTION
Protect Against the Bluegrass Pipeline!
Back in August, we tried to get Governor Beshear to add NGL pipelines to the August Special Session of the General Assembly.  Unfortunately, the Governor declined to do so, suggesting that the issue is not urgent.
But the Bluegrass Pipeline folks are not waiting on the Governor to do something in January.  They continue to trudge forward with the project, and are still trying to survey properties along their general route, and may even be engaging in easement acquisitions.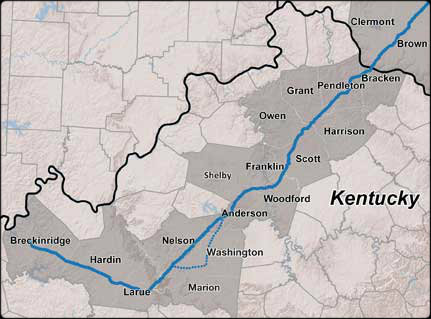 In order to actually start building the pipeline, though, the company will have to acquire all necessary permits.  This includes a Clean Water Act Section 404 Dredge and Fill permit from the Corps of Engineers for impacts to streams and wetlands.  For small projects, like building a new retail store, that may have stream or wetland impacts, those impacts can be fairly easily assessed.
However, for a large multi-state project like this, with impacts to upland habitat, streams, wetlands, endangered species, and other areas, the impacts are wide-ranging and substantial.  For larger projects like the Bluegrass Pipeline, the National Environmental Protection Act requires the Corps, or other federal agencies, to conduct either an Environmental Assessment (EA), or a more comprehensive Environmental Impact Statement (EIS) in order to justify the need for the project, and to look at alternatives.
KWA has joined Kentucky Resources Council and Kentuckians For the Commonwealth in requesting that the Corps develop a full EIS for this project.  The Bluegrass Pipeline, if it is to be constructed, must be done so in a manner that sufficiently accounts for all impacts, takes all necessary and legally required steps to avoid impacts to the maximum extent practical.
Let the Corps know that general citizens are concerned about the impacts of this project, and request that the Corps develop the full EIS!
Thanks for helping us protect and restore Kentucky's waterways,
Tim Joice
Water Policy Director
Kentucky Waterways Alliance
Tim@KWAlliance.org